ILB Series
Ultra Efficient Advanced Optics High Bay
The Aleo ILB™ UXE Series Ultra High Efficiency LED Linear High Bay delivers industry-leading performance with an extremely attractive ROI. The ILB utilizes advanced aisle optics to deliver illumination where its needed and reduce wasted light; this allows facilities to use less luminaires and less energy while saving cost. Precision aisle optics combined with ultra high efficacy and occupancy sensing results in extreme energy savings and optimal ROI.
Learn More
Download Spec Sheet
APPLICATION
Provides high output illumination for various commercial / industrial applications with aisles or racking / shelving: warehouse, manufacturing, retail.
FEATURES and BENEFITS
Advanced aisle optics
Super slim profile
Plug and Play sensor receptacle
Increased light levels on working plane, reduce wasted light
Deep energy savings, reduce fixture counts with optimized light distribution
Low wattage for deep energy savings
7-year limited warranty
Construction
Rugged and durable construction withstands warehouse environments. Luminaire features white durable finish.
Suitable for Damp Location.
Optical System
Precision-formed, advanced optics for high bay aisle applications. 40 deg. x 125 deg. optics. Efficiently delivers illumination to the desired surfaces while reducing wasted light. Reduces the wattage needed to effectively illuminate warehouse aisles.
Certification
UL Listed. All components have UL certification. UL Class 2. Driver: SCP, OTP, OVP protection, FCC Part 15 Class B, UL8750 Class 2. DLC Premium
Warranty
7-year Limited Warranty. See warranty documentation for more information.
Electrical
Luminaire utilizes high-efficacy LED packages maintained at cool temperatures for long life, high efficacy. Reliable high-efficiency driver features continuous dimming. Universal voltage (120-277V) for convenient installation. Comes equipped with luminaire quick-disconnect.
Installation / Mounting
Various mounting options available, including suspension, pendant, and surface mount. V-hook hangers and chain accessories included.
Controls / Dimming
Continuous dimming (0-10V). Comes standard with sensor receptacle for plug and play field installation of sensors.
Images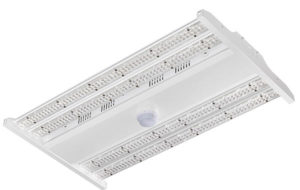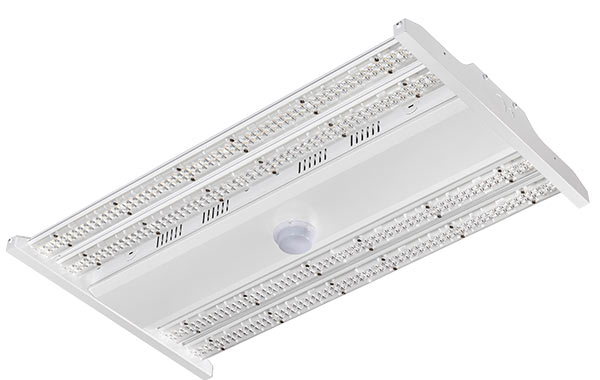 | Model No. | Nom. Wattage | 5000K Lumens |
| --- | --- | --- |
| ILB2-75/850/F UXE G4 (SR/RC) | 75 | 12075 |
| ILB2-125/850/F UXE G4 (SR/RC) | 125 | 20125 |
| ILB2-160/850/F UXE G4 (SR/RC) | 160 | 25760 |