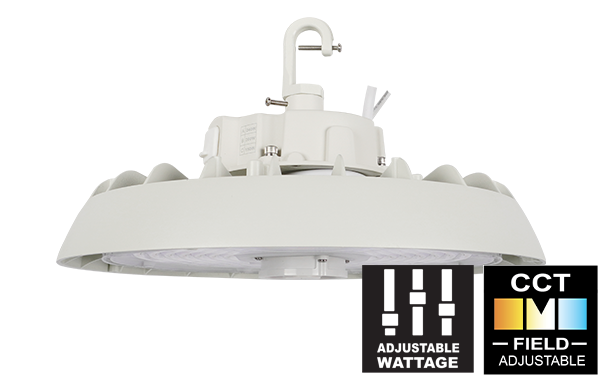 Circular LED High Bay - CCT Select
The Aleo UXB™ Series, Circular High Bay, combines efficiency, robust construction, and utility to deliver a competitive and high-performance high bay solution for single-point mounting applications. The wet location / IP-rated luminaire provides a versatile solution for high mounting facilities. Delivering high output, quality light and low energy consumption, the UXB improves warehouse safety and productivity, lowers maintenance cost, and reduces operating costs.
APPLICATION
Provides high output illumination for various commercial industrial applications with high ceilings: warehouse, manufacturing, gymnasiums, cold-storage.
FEATURES AND BENEFITS
Attractive ROI
Low Profile, Slim Design
Rugged construction and design
Long life, reduced maintenance
Lower energy costs
High quality light
7-year limited warranty
Construction

Rugged, die-cast housing with advanced thermal management system ensures reliability and durability. Integrated, enclosed water-proof driver protects against environmental elements. IP65, Wet Location Rated. White Finish.
Electrical

Luminaire utilizes high-efficacy LED packages maintained at cool temperatures for long life, high efficacy. Reliable driver features continuous dimming. Universal voltage (120-277V) and High Voltage (277-480V) for convenient installation. Comes equipped standard with 6' white SO cord.
Optical System

Polycarbonate (PC) lens provides protection and high efficiency transmission of light.
Installation & Mounting

Single-point hook mount (hook with screw included).
Certifications

UL Listed. Wet location rated. All components have UL certification. UL Class 2. Driver: SCP, OTP, OVP protection, FCC Part 15 Class B, UL8750 Class 2. DLC Premium. NSF/ANSI 2.
Controls & Dimming

Continuous dimming (0-10V) comes standard. Suitable for use with dimmers, sensors, daylight harvesting and other control strategies to achieve deeper energy-savings and code compliance.
Warranty

7-year Limited Warranty. See warranty documentation for more information.
Field-Adjustable CCT / Wattage

Increased versatility and reduced inventory burden. Wattage and Color Temp. can be adjusted in the field by selecting (3) different wattages and (3) different CCTs via switch inside the housing.
UXB-UX-150/CT
UXB-UX-240/CT
Specification Sheet
Installation Guide
IES Files
Model No.
Nom. Wattage
3500K Lumens
4000K Lumens
5000K Lumens
UXB-UX-150/CT G5 ECO (SR/RC)
100W
15057
15972
15352
125W
18631
19761
18999
150W
22128
23485
22570
UXB-UX-150/CT-HV G5 ECO (SR/RC)
100W
14606
14769
14682
125W
18066
18270
18162
150W
21469
21714
21584
UXB-UX-240/CT G5 ECO (SR/RC)
150W
21506
22900
22078
200W
28382
30240
29144
240W
33726
35933
34618
UXB-UX-240/CT-HV G5 ECO (SR/RC)
150W
22035
22498
22368
200W
29087
29703
29530
240W
34558
35297
35089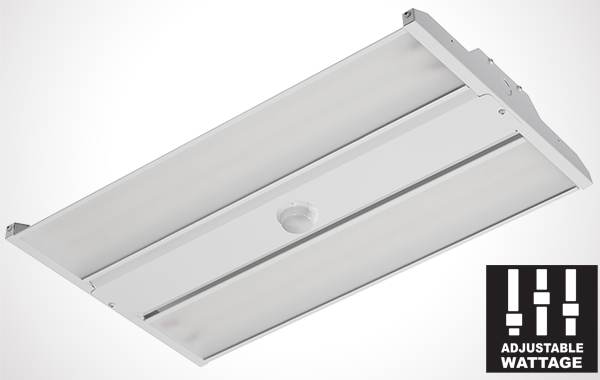 Ultra Efficient Linear LED High Bay