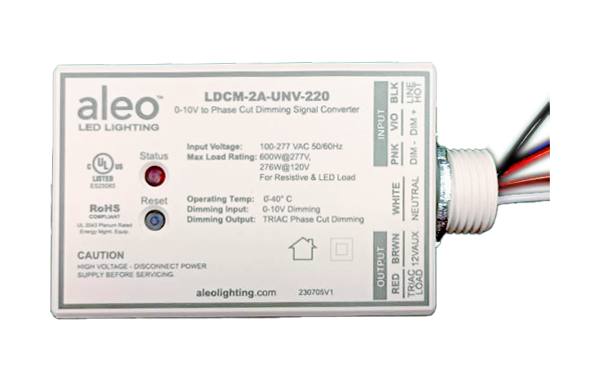 AleoBlue Linear Dimming Control Module - Plenum Rated
The AleoBlue linear dimming control module plenum rated (LDCM) takes a 0-10V dimming signal and a fixed line voltage input and converts it to a forward/reverse phase dimmed output for up to 600W with a 277V load and 276W on a 120V load. One LDCM can be used per run up to the maximum wattage. LDCM is rated to directly mount to a junction box in a plenum space for easier installation.
APPLICATION
Indoor: Open offices, Individual offices, Conference rooms, Classrooms, Retail stores, Hospitals, Lobbies.
FEATURES AND BENEFITS
Dims both forward and reverse phase only fixtures with 0-10V
Simple installation
Direct J-Box mount
120V and 277V compatible
Built in 12V Aux power supply
276W @120V, 600W @277V
Plenum rated
UL Listed. UL 2043 Plenum Rated
Warning

DO NOT install with power applied to device
DO NOT expose the device to moisture
Operation

Check the "aleoBlue Commissioning User Manual" for settings and commissioning.
Certifications

UL Listed. UL 2043 Plenum Rated.
Warranty

5-year Limited Warranty. See warranty documentation for more information.
LDCM-2A-UNV-220 Dimensions
LDCM-2A-UNV-220 Wiring Diagram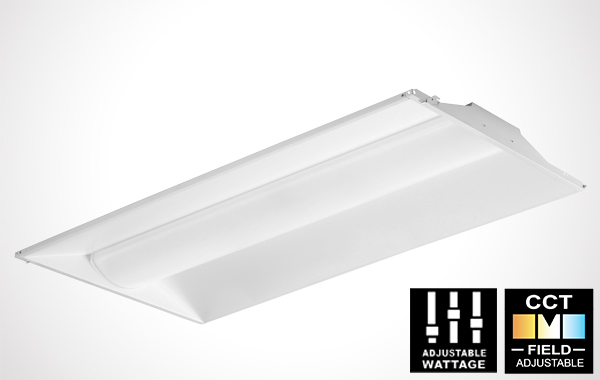 LED Troffer Retrofit Kit – Field Adjustable CCT