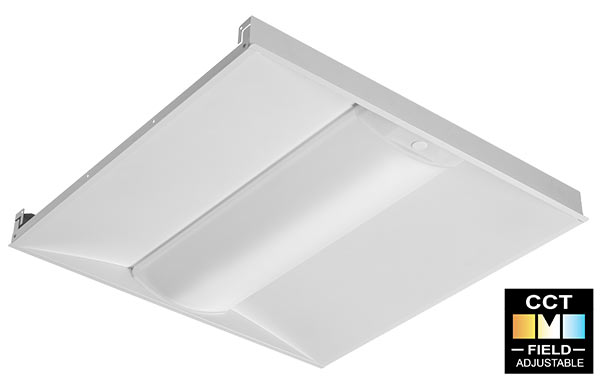 Volumetric LED Troffer - Sensor Ready
The Aleo LT-CD™ (SR/RC) Series LED Field Adjustable Troffer delivers industry-leading Versatility with deep energy savings and continuous dimming. The precision-formed diffuser produces comfortable and pleasant illumination, enhancing productive spaces in various applications.
Sensory Ready quick connect port enables plug and play field installation of AleoBlue Wireless Bluetooth Mesh Networked Lighting Control (NLC) occupancy sensors with daylight (LLLC).
APPLICATION
Provides architectural aesthetics for retail, schools, offices, healthcare, and other various commercial applications.
FEATURES AND BENEFITS
Reduces Inventory and Increases Flexibility
Field Adjustable CCT
AleoBlue – Wireless Bluetooth Mesh Networked Lighting Controls (NLC)
Sensor Ready with Quick Connect Port
Field Install Plug and Play Sensor
Luminaire-level Lighting Controls (LLLC)
Construction

Simple construction with minimal parts allows for easy handling and installation. Low profile design optimizes shipping, storage, and handling. Luminaire features matte white durable finish. Integral T-Bar clips built into luminaire. Diffuser requires no additional frame or fastener for easy installation.
Optical System

Reflector systems features highly reflective coating and delivers balanced, comfortable illuminance for productive spaces. Diffuser lens reduces glare and improves occupant comfort while maintaining high efficiency emission.
Certifications

UL Listed. All components have UL certification. UL Class 2. Driver: SCP, OTP, OVP protection, FCC Part 15 Class B, UL8750 Class 2.
Controls & Dimming

Continuous dimming (0-10V) comes standard. Luminaire is sensor-ready with quick-connection port to accept AleoBlue luminaire-level lighting control (LLLC) sensor. Easily upgrade to an AleoBlue Networked Lighting Controls (NLC) system with field installable, plug and play sensors and control nodes. AleoBlue offers advanced lighting controls, easy code compliance, and intuitive commissioning.
Warranty

7-year Limited Warranty. See warranty documentation for more information.
Electrical

Luminaire utilizes high-efficacy LED packages maintained at cool temperatures for long life, high efficacy. Reliable driver features continuous dimming. Universal voltage (120-277V) for convenient installation. Comes equipped with luminaire quick-disconnect.
Field-Adjustable CCT / Wattage

Increased versatility and reduced inventory burden. Color Temp. can be adjusted in the field by selecting (3) different CCTs via switch on driver box.
Installation & Mounting

Installs in most standard T-Bar ceiling grid systems. Flange kit available for hard-lid/drywall applications.
Specification Sheet
Installation Guide
IES Files
Form Factor
Model No.
Nom. Wattage
3500K Lumens
4000K Lumens
5000K Lumens
1'x4′

LT-CD-14-UXL-30/8CT G5 ECO

20
2840
3080
2880
25
3450
3750
3500
30
4020
4380
4080
2'x2′
LT-CD-22-UXL-30/8CT G5 ECO (SR/RC)
20
2820
2980
2840
25
3425
3625
3450
30
4020
4260
4050
2'x4′
LT-CD-24-UXL-34/8CT G5 ECO (SR/RC)
25
3500
3750
3600
30
4080
4380
4200
35
4655
5005
4795
| Model No. | Description |
| --- | --- |
| -EM700 | Emergency battery backup, 700 lm |
| -EM1400 | Emergency battery backup, 1400 lm |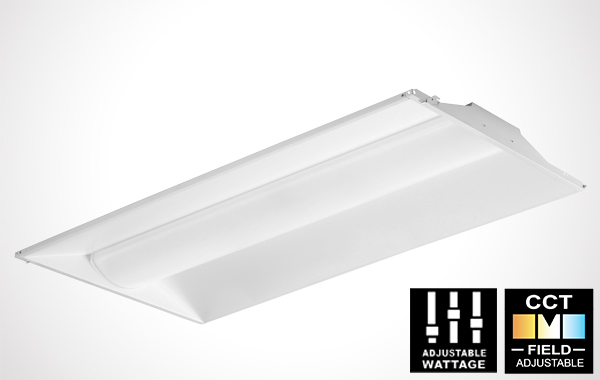 LED Troffer Retrofit Kit – Field Adjustable CCT