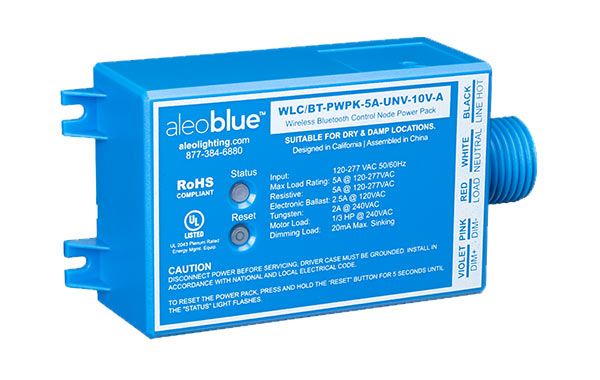 AleoBlue Wireless Bluetooth Control Node Power Pack
The AleoBlue wireless power pack controller provides On/Off switching and 0-10V dimming to a connected lighting load as directed by wireless sensors in the AleoBlue network. The power pack operates on line voltage input (120V-277V). The contractor-friendly form factor conveniently mounts in a KO hole of a standard junction box or luminaire driver box via a threaded chase nipple and lock nut. The unit can also be installed inside luminaire driver boxes.
APPLICATION
Indoor: Open offices, Individual offices, Conference rooms, Classrooms, Retail stores, Hospitals, Lobbies.
FEATURES AND BENEFITS
Wirelessly connects to sensors and dimmers
Wireless communication allows easy retrofits without the need to pull control wires between devices
On/Off and dimming control of a luminaire or group of luminaires
Suitable for plug load control
Bluetooth Mesh SIG wireless communication makes retrofits easy, no need to pull control wire
Plenum Rated (UL 2043)
Fast installation onto junction boxes using chase nipple and lock nut
Warning

DO NOT install with power applied to device
DO NOT expose the device to moisture
Operation

Check the "aleoBlue Commissioning User Manual" for settings and commissioning.
This device can be reset to the Unprovisioned Mode by pressing and holding the "Reset" button over 5 seconds till the indicator flashes.
Certifications

UL Listed. All components have UL certification.
Warranty

5-year Limited Warranty. See warranty documentation for more information.
WLC/BT-PWPK Dimensions
WLC/BT-PWPK Wiring Diagram
| Model No. | General Use | Resistive | Inductive | Tungsten | Motor |
| --- | --- | --- | --- | --- | --- |
| WLC/BT-PWPK-5A-UNV-10V-A | 5A @ 277VAC | 5A @ 125VAC 5A @ 250VAC | 5A @ 277VAC | 1000W, 4A @ 250VAC | 0.5 HP @ 120VAC 1HP @ 240V |
| WLC/BT-PWPK-20A-UNV-10V-A | 20A @ 277VAC | 18A @ 120VAC 18A @ 277VAC | 10A @ 240VAC | 2000W, 8A @ 250VAC | 0.5 HP @ 120VAC 1 HP @ 240VAC |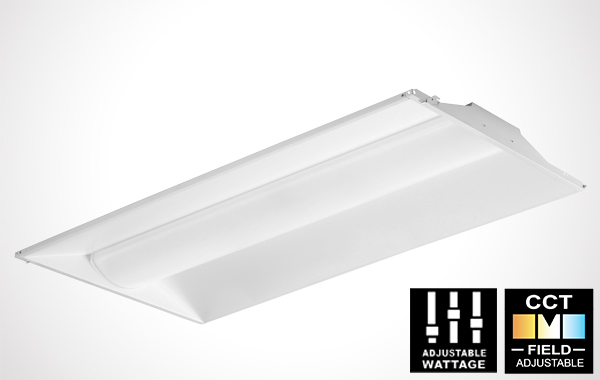 LED Troffer Retrofit Kit – Field Adjustable CCT